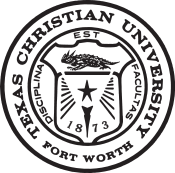 TCU is committed to creating a world-class, values-centered university experience. With $515 million of construction under way or completed in recent years, a vibrant living and learning community, mentoring faculty, scores of opportunities to develop leadership skills on campus and abroad, and an endowment listed 62nd among colleges and universities in the United States, TCU is ahead of the curve.
It's a friendly and diverse campus. Students benefit from the strengths and resources of larger institutions but in a small college environment. They can choose from 100 undergraduate areas of study, participate in innovative programs such as entrepreneurship and nurse anesthesia, and take part in service learning. Their professors are leaders in their fields, and academics are rigorous. A global perspective permeates TCU, and students have numerous opportunities to study abroad. They have the advantage of state-of-the-art sports and recreation facilities and can enjoy NCAA Division I competition, right on campus.
With a 14:1 student/faculty ratio and a teacher-scholar model that results in close, mentoring relationships, TCU fosters discovery, creativity and leadership. It's a culture that enables the search for meaning and success. Consequently, a TCU education is more than the sum of semester hours — it's an exciting living and learning experience that grows from the mission: "to educate individuals to think and act as ethical leaders and responsible citizens in the global community."
Each year, TCU's department of Institutional Research produces a Fact Book and quick reference for facts about TCU. For more information or questions about the research, contact Institutional Research at 817-257-7793 or http://www.ir.tcu.edu/
http://www.newsevents.tcu.edu/1364.asp => Original Article
Community content is available under
CC-BY-SA
unless otherwise noted.